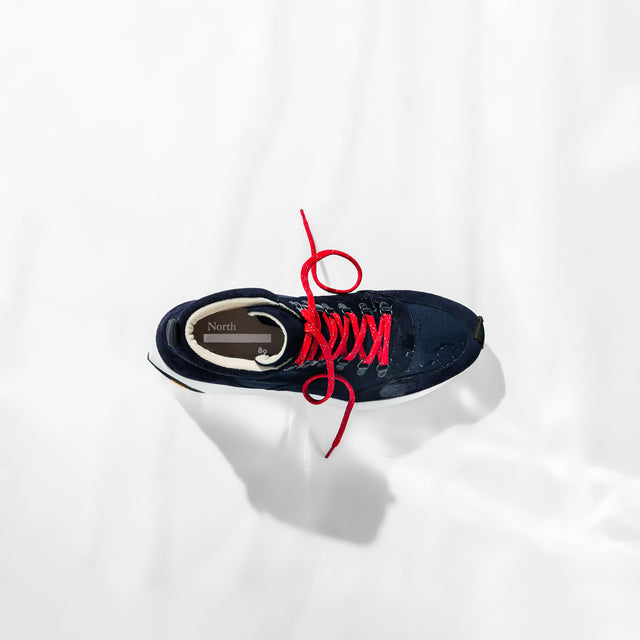 Alpine Hiker Midnight Blue
(Water-resistant)
✔ Fast & Secure Global Shipping
✔ 14 days Return Policy
✔ Pay Later with Klarna
- Water-resistant rip stop upper   
- Vibram Runner Sole
- Memory Foam Insole
- Textile Lining
- Reflective Nylon Laces
- Comes in branded box with extra laces & dustbag
- Handmade in Portugal
- Made using European materials
Read more
Usage
Technical specifications
Water-resistant upper / Nylon Laces / Memory Foam Insole (removable) / Rubber Cup Cole / Designed in Sweden / Handmade in Portugal / Comes in branded box with extra laces
Size Guide
Our shoes fit true to size unless otherwise stated. Below is a size guide in CM of the insole measured at the widest and longest points.
40 – 27,5cm x 8,5cm
41 – 28cm x 8,6cm
42 – 28,5cm x 8,8cm
43 – 29,5cm x 9cm
44 – 30cm x 9,2cm
45 – 30,5cm x 9,3cm
46 – 31cm x 9,5cm
We always recommend going one size down from what you may have in Nike or Adidas. 
Shipping & returns
Fast & Secure Global Shipping
Ships within 48 hours (except holidays & weekends)
Read our return policy here
Reviews
Shoemaker from the North to the World
North-89's are handmade in a family owned factory in Portugal using the finest Italian leathers and innovative materials available. Designed in Stockholm, at the heart of Scandinavia where all four seasons are clearly exhibited, we strive to deliver footwear based on quality, functionality and comfort. On this journey we strive to stay true to our roots of Scandinavian design while focusing on the constant development and progression of our footwear.